New Way to Embed a YouTube Video
---
There now is a new way to Embed a video in a story. You do not have to upload the embedded video in an album first, you can use the embed code directly in the story to embed it. The full story here will show what I would like you to do when you do embed a video so we can be consistent on the site.
Here is a screen shot of the configuration area of an embedded video from YouTube.
When you find a YouTube Video you want to add to a story you will see the embed code window on the right, click on the little icon to the right and you will see a screen as above. Next uncheck related video's and check border, then select the blue border and then select the size 500x405. Now highlight the embed code and use the "Insert Embedded Video" icon
(the highlighted icon in this picture) in the advanced editor. After you click this icon you will see this popup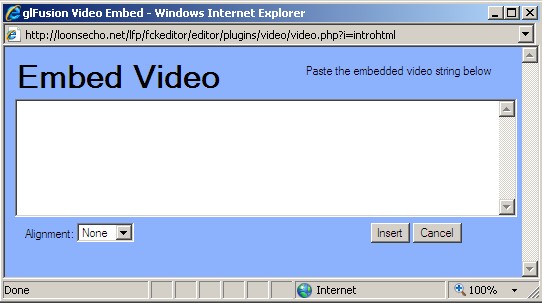 Paste the code here and select alignment from the options, I recommend "center". Below I have done this with a fly tying video for demo purposes. Try it it is very nice feature of the new "Lee's Fishing Page".
---