photo_album_help:batch_captions
Batch Captions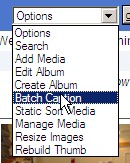 You have an option in the Menu for Updating the Title and Description of all the photo's in the current Album. This makes the process much easier to do then doing an edit of each photo in the album. You will see a screen like this:
Fill in each field and scroll down until all photo's on this page have what you want for a Title and Description. At the bottom you will see:
These buttons, you can select Save and Exit, Save and Next Batch or *Cancel**.
This makes for setting Titles and Description much faster and easier.
photo_album_help/batch_captions.txt · Last modified: 2012/04/11 11:12 by LeeGoldsmith